CHICAGO, Nov. 29, 2018 /PRNewswire/ -- As the leader in healthcare with AI technology and the only company in Chinawith a full range of AI based medical solutions and products, YITU healthcare released two brand new products, Intelligent Diagnostic and Treatment Platform for Cancer Screening and CARE.AITM Intelligent 4D Imaging System for Chest CT, at the annual meeting of Radiological Society of North America (RSNA), which is widely acknowledged as the wind vane of the global radiology community.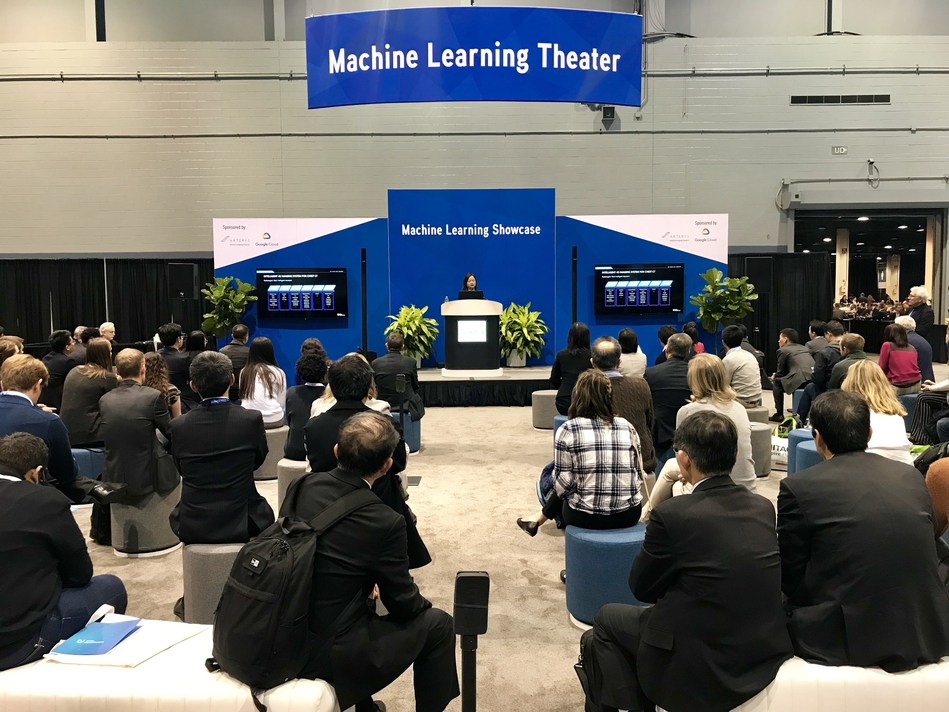 YITU Healthcare Vice President Cathy Fang gives a speech at the annual meeting of Radiological Society of North America (RSNA).
In particular, CARE.AITM Intelligent 4D Imaging System for Chest CT is the first AI system in the world to break through detection of pulmonary nodules and realize the real-time imaging of a wide variety of other lesions. Together with other cancer screening solutions, it will greatly reduce the workload of radiologists, become a clinical assistant to radiologists, and provide the possibility for large-scale early cancer screening worldwide.
This comes amidst a backdrop of the latest Annual World Cancer Report, released by the WHO on November 3, 2018. This year alone, it is expected that there will be 18.1 million new cancer cases and 9.6 million cancer deaths worldwide. The incidence of lung cancer, breast cancer, colorectal cancer, prostate cancer, gastric cancer, and other cancers is still growing rapidly and show no sign of slowing down.
AI is China's powerful tool in the quest to improve public health on a large scale
China's medical AI has developed rapidly over a short period of time, but most companies focus on detection of pulmonary nodules, which only account for about 50% of lung lesions in a chest CT. Professor Zhengyu Jin, Chairman of Chinese Society of Radiology, said that products that can only detect lung nodules are not assistants to radiologists, as the complete clinical diagnosis process for chest CT imaging has to include other types of lesions such as patchy shadow, stripe shadow and cystic shadow.
CARE.AITM Intelligent 4D Imaging System for Chest CT, the world's first product that can perform imaging based diagnosis for all the type of lesions mentioned above, is a centralized display of the scientific research achievements made by YITU Healthcare in recent years, and can provide information sign analysis and diagnosis to achieve efficacy prediction and evaluation.
Referring to this product, Professor Jin said this system basically realizes the full-dimensional detection of lesions for chest CT imaging, improves the functions of medical AI and promotes its application in clinical practice.
In addition to CARE.AITM Intelligent 4D Imaging System for Chest CT, Intelligent Diagnostic and Treatment Platform for Cancer Screening, covering multiple cancers, was also released at the same time. This platform relies on YITU Healthcare's disease-centered massive multimodal medical data to provide doctors with imaging detection, lesion analysis, clinical decision-making assistance, patient management and other services.
For a long time, it has been difficult to widely promote large-scale early screening of diseases, especially cancer screening, restricted by the availability of limited high-quality medical resources. The emergence of high-level medical AI makes it possible for AI systems to assist doctors becoming providers of medical services to a certain extent and provides the possibility for large-scale early screening of tumors.
According to Dr. Cathy Fang, Vice President of YITU Healthcare, a large-scale cancer screening program named "AI Map for Cancer Screening" has been launched in China. At present, the program covers 19 provinces and autonomous regions in China and coverage is still increasing. The preliminary screening results from a collaboration project between YITU Healthcare and the 2nd Affiliated Hospital of Guangzhou Medical University identified 10 cases of lung cancers out of over 1,300 high-risk people, including 9 early cancer patients, all of whom have been verified by pathological testing and are in a state of recovery after prompt treatment. This is the world's first time to use AI solutions on cancer screening on a large population.
"Medical AI products with advanced and reliable performance, which meet clinical needs and can be quickly replicated, are great creations in human history, and China is making rapid progress in this field," said Dr. Fang. "YITU's series of AI products have been widely applied in more than 200 Grade-A tertiary hospitals throughout China and cover the regional medical centers at the municipal and county levels in numerous provinces and cities. We look forward to bringing advanced AI products to all parts of the world and working towards promoting the improvement of human health care level."
You can copy the link to share to others: https://www.yitutech.com/node/863