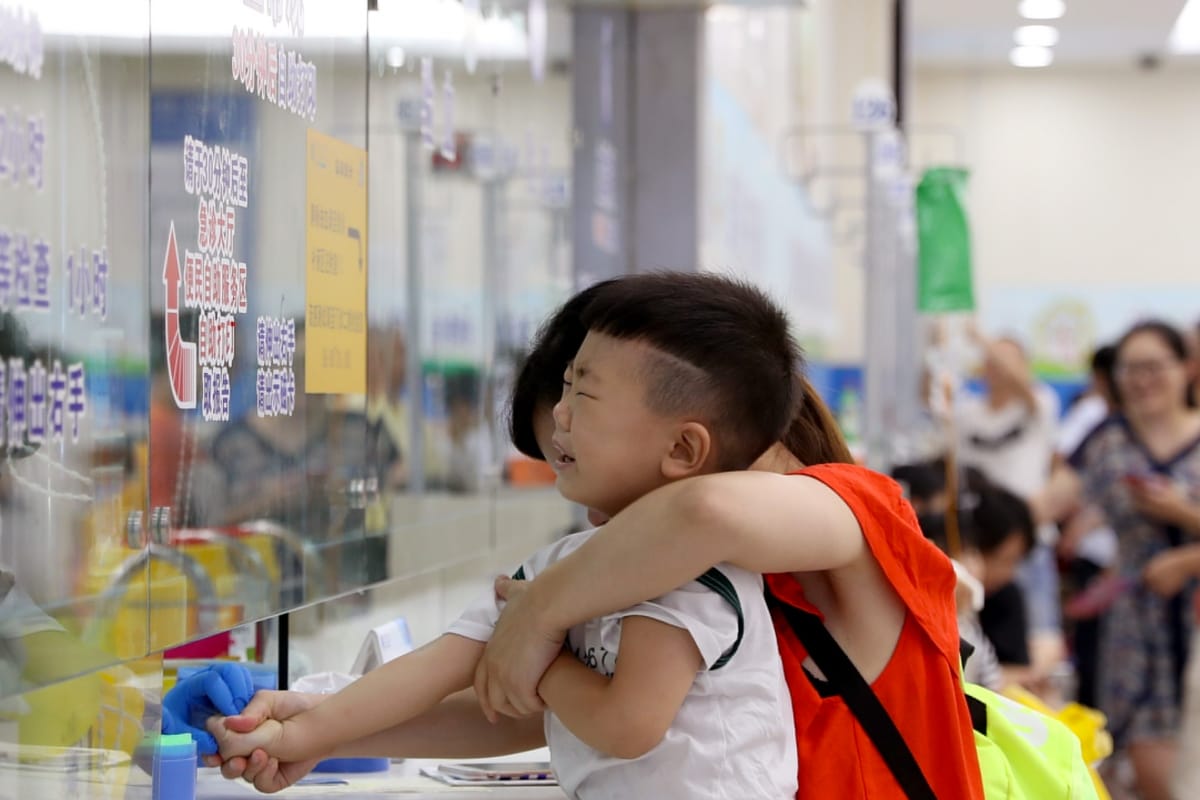 A boy has his blood sample collected at a children's hospital in Shanghai, July 26, 2018.
While artificial intelligence is shaping up as a new battleground between China and the US in areas such as autonomous cars, data collection and the military, there is one application where both sides are happy to cooperate: health care for kids.
A research paper published earlier this week in the Nature Medicine journal, co-authored by AI researchers from both countries, describes an AI-enabled data model that can assist doctors in diagnosing illnesses in children, including toddlers who cannot verbally communicate their symptoms.
Drawing on records of nearly 600,000 paediatric patients in China over an 18-month period, the software was able to diagnose common childhood diseases with an accuracy rate of over 85 per cent, according to Ni Hao, one of the paper's co-authors and chief executive of Chinese AI start-up Yitu Healthcare.
Results for the most frequently encountered or potentially life-threatening illnesses, from influenza to meningitis, were even better with a 93 per cent accuracy rate, the paper showed.
The project was a collaboration among researchers from Chinese hospitals, Yitu and a University of California San Diego (UCSD) team headed by Zhang Kang, another co-author of the paper.
"The Yitu team helped design and develop the algorithms and clinical application solution, while UCSD provided guidance in scientific methodology and thesis structure," Ni said in a text message.
The software is now being used at the Guangzhou Women and Children's Medical Centre, and assisted physicians in more than 30,000 cases in the first three weeks of January, he said.
Other assistive diagnosis tools based on the model are being used in hospitals in Beijing, Shanghai and Zhejiang province.
"Working as paediatricians is especially challenging in communicating with young patients, dealing with incomplete health information and rapid disease invasion … all of which require the help of AI more than ever," said Ni.
The AI software provides "clinical decision support in cases of diagnostic uncertainty or complexity", according to the paper.
The system combines data mining of prior medical knowledge with data driven modelling of a patient's electronic health records, which are typically more difficult for AI to analyse than image or numerical based data.
The collaboration on health care comes as AI continues to be contentious area of competition between China and the US. On Monday, US President Donald Trump issued an executive order designed to "maintain American leadership in AI" and counter China's ambitions in the technology.
Since 2014, China has led the world in the number of patent filings in AI, followed by the US, according to a report by the World Intellectual Property organisation.
The two countries are home to the majority of heavyweight AI start-ups, accounting for 10 of the top 11 AI unicorns – private companies with a valuation of US$1 billion or above – according to an annual compilation by CB Insights released earlier this week.
In a televised interview on Tuesday, Joseph Tsai, Alibaba Group Holding co-founder and executive vice-chairman, called for a "symbiotic relationship" between China and the US on AI.
"The fact is that there are many scientists from China here in the US working on AI, and lots of American companies very good at AI that want to get into China," he told CNBC.
"Right now, there's a tendency to say we are competitors and parallel universes are being created," he said. "[But] working together on AI is really the way to move forward."
New York-listed Alibaba is the parent company of the South China Morning Post.
You can copy the link to share to others: https://www.yitutech.com/node/581